Update on Bodhi, the Akita from the Pinole Shelter
Here is an update for those who championed for Bodhi (the Akita mix from Pinole).  Please check back often as we post news about his condition and his rehabilitation.

Last update 7/15/16 (scroll to the bottom for today's news)


Bodhi means "awakening" and that is exactly what he's been doing in the last few days.  We felt the name was more than fitting.
 
The First 48

I received a text from former Akita adopters of ours, asking if we could help an Akita who was deteriorating rapidly in the local shelter.  We learned Bodhi had refused all treats and food the entire 5 days he'd been in the shelter.  He was not accepting human contact and was extremely  fearful and withdrawn.  With each passing day he fell deeper into his own darkness.  He was so badly traumatized he had conceded and given up all hope.

Upon arriving at the shelter I could see he was completely shut down and detached, but with some gentle coaxing he allowed me to leash him.  Once he realized he was leaving with me, he made a dash for the door.  He was terrified but his desire to get out was greater than the fear that had immobilized him for the past 5 days.  He was visibly gaunt and had lost muscle mass which was evident in his face and head in these photos, compared to his intake photo from the shelter, days prior.
Our goal was to give him a private, quiet, comfortable place to decompress for the next couple of days without putting any demands on him.  The only thing we would ask of him would be to eat.  He'd also been exposed to parvo in the shelter, so this environment allowed us to test him before permitting him around other dogs.

He sought out the smallest corner of the room he could find, then curled up and hoped nobody would notice him.  His triage team consisted of three dedicated young women who took turns staying by his side for hours, brushing him, petting him, and gaining his trust.  Angie quickly became his best friend.  
He continued to show no interest in food, but we enticed him with a rotisserie chicken and Viola!  He was hungry and finally ate something. Slowly, he came to trust the volunteers and was allowing them to handle him and tend to him.  He was still extremely tentative and nervous but we were thrilled to see he was making progress.   Angie discovered he knew some basic commands, ie: sit, stay, down and come. The following day, more chicken was on the menu and though he wasn't eating with gusto, he did eat.  His progress continued and the team was able to walk him even though he was very uncertain, but his instincts told him to continue to trust.  He was emerging...
 

Day 3 - "I think somebody's coming out of his shell now"

My morning was kick started with these incredible photos I received via text that read, "I think somebody's coming out of his shell now."  I could hardly contain my excitement and joy!  Bodhi had made huge strides from just the day before, and was definitely benefiting from his private room and the special people who were encouraging him to live in the moment.  And to top it all off his parvo test came back negative.  Things were looking up!
Thank you to Stacey Borrmann who not only rounded up donations, but also put us in touch with Karen Hubbard, owner of Featherer Pet who donated a much needed bath and grooming for Bodhi.  His coat reeked of urine and musty layers of dead undercoat and fleas. He was nervous but felt so much better after he was clean, brushed and pampered.  He even gave kisses of appreciation to his groomer, Suzanne afterwards!
After his bath, we determined he would be ready for the transition into his foster home.  Here he is on a walk before settling in.  Foster dad Paul, on the receiving end of affection.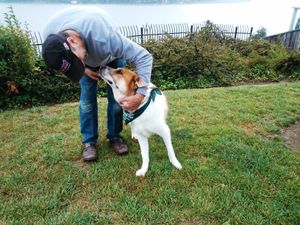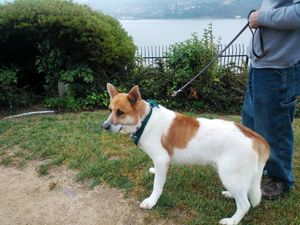 His foster home consists of 3 cats and 2 other dogs. We needed a way to keep Bodhi separated from everyone else until we could do proper introductions.  He was set up with a comfy deluxe bed with soothing talk radio in the background.  Clearly, he was unsure of the new surroundings, pacing a bit and restless.  It wasn't long before he decided he wanted to be part of the activities. He was extremely curious about what was going on on the other side of the door.  We were thrilled to see his curiosity piqued and his desire to be involved.   
Day 4 -

Bodhi was introduced to his foster pack, and with some initial reservations, things appear to be ok.  We are pleased everyone so far seems to be accepting.  Here he is resting and relaxing inside the house with the others.  He solicited some play behavior with the resident dogs, and explored the entire house, top to bottom.  Still not 100% confident, but everyday he makes a conscience decision on his own to venture out of his comfort zone.  We let him go at his own pace, and he continues to amaze us at every turn.  Paul and Marianna take turns tending to Bodhi's needs and ensure he continues to have positive experiences.
We are encouraged with his progress, but he has a long road ahead and is undergoing a full medical evaluation as he is still not eating as much as he should.  We remain cautiously optimistic that his tests do not show signs of any serious illnesses.
May 20, 2016
The latest update for Bodhi is good news!

Because of Bodhi's poor condition when we rescued him, it was necessary to have several tests run to get a snapshot of his overall health.  After a full medical exam and a multitude of tests, we are ecstatic to report that Bodhi is in decent health, with no major health issues! 
 
Bodhi had the following tests run: a full blood panel, urinalysis, heartworm test, dental exam and a thyroid panel.  He did test positive for hypothyroidism, which is a common condition in all breeds.  It is non-life threatening and is easy to treat.  It is fairly inexpensive to manage and requires only a daily dose of a small pill of thyroid medication.

He will need to be on these meds for the remainder of his life, and have his blood checked periodically to ensure he is responding appropriately, and if necessary adjust the dose accordingly.  Once started on thyroid medication, dogs can lead a normal life.  We've started him on the medication.

Physically he's in good shape.  Now we can concentrate on his emotional health and well being.

Bodhi is still acclimating in his foster home and is still somewhat tentative in new situations, but he is making strides every day.  He has been affectionate and seeks attention, and has even been silly at times!

He has played with one of the other resident dogs, yet has been unpredictable around the cats.  He has been enjoying his daily walks and has gotten stronger and more adventurous! 

I was told that his tail curled up for the first time, a definite sign he's feeling more comfortable with each passing day.  Yesterday, he was neutered and is doing well.  He'll be wearing the cone of shame for the time being!
June 3, 2016
Bodhi's progress with his canine foster pack has been amazing, as you can see by the latest photos below!  Bodhi and Beulah have become fast buddies, and can often be found snuggling!  Sid the cat seems to have grown on Bodhi but a watchful eye remains in place just for precautionary measures.  Bodhi's socialization is going well, as neighbors all seem to know his name now.  He's become quite the fixture in the neighborhood!  While he remains mostly cautious still when meeting new people, he has moments when he welcomes petting from those he meets.  Thanks to foster mom Marianna and dad, Paul for their dedication and commitment to helping Bodhi experience life in a loving, trusting environment. 

It's hard to imagine how only weeks ago, Bodhi had completely given into darkness and despair in the shelter.  And to witness how he has blossomed and emerged into an incredibly special boy, has been truly an honor.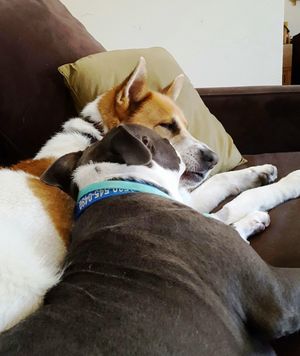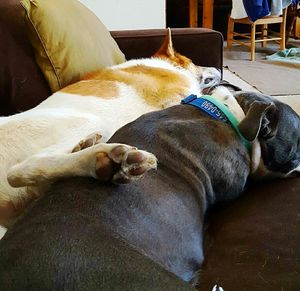 Stay tuned for further updates as we continue to monitor his progress.


July 15, 2016

We have great news to report!!  Bodhi's been adopted!  Bodhi's foster mom and dad and their canine and feline pack have decided to make Bodhi a permanent part of the family!  We could not be happier for him.  He deserves to have a life where he's an integral family member.  We can only surmise what his past life was like based on the terrible condition he was in when we brought him home.  But I can say with all certainty that his life now is a far cry from his past and he has already started on the journey forward, leaving all that behind him.  Thank you Paul and Marianna, Kaja, Beulah, Sid, Baby and the rest of the pack, for welcoming him into your hearts!



Thank you to everyone who made donations towards Bodhi's care, with special thanks to Stacey Borrmann and The Golden Gate Akita Club.


If you'd like to make a contribution to his continuing rehabilitation, please click on the yellow Donate button below, or visit our Donation page.  Be sure to note your donation is for Bodhi.









All content and photos on this website are copyrighted and not to be distributed, downloaded or printed without the consent of Namaste Akita Rescue Alliance, Inc.
© Namaste Akita Rescue Alliance, Inc. All rights reserved.
Namaste Akita Rescue is a California 501(c)(3) non-profit welfare organization.